Historians of Karnataka – Lecture Series
Karnataka history as we know today is the collective work of many eminent researchers and historians who have contributed immensely to our understanding of it. It is our duty to remember their relentless work. In this regard Karnataka Itihasa Academy is hosting series of online lectures from scholars across the state who will throw light on the life and work of these great personalities.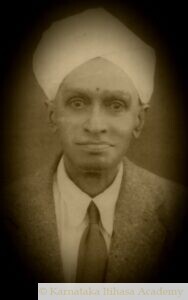 "I have known Mr.N.Lakshminarayana Rao M.A., for some years. His contributions to the Epigraphia Indica, Epigraphia Indo-Moslemica, Hyderabad Archaeological Report and the Indian Historical Quarterly bear testimony to his attainments in Kannada, Sanskrit and Telugu and to his researches in the field of History and Epigraphy. He has been helping the Government Epigraphist for several years in editing the Epigraphia Indica. He has also helped in the preparation of Volumes of VI and VII of South Indian Inscriptions. He is the Joint Editor of the Volume of Bombay Karnatak Inscriptions which is being printed.
A perusal of his articles has impressed me with the care and diligence shown by him in his work. His qualifications are of a high standard. He deserves every encouragement."
R.Narasimhachar
Article by Dr. H. S. Gopala Rao on Shri N. Lakshminarayana Rao