Bhu Dana or Land Grant is the most common of grants records found in our land.  There are various types of Bhu-Dana Shasanas and are classified based on the material on which they are inscribed.
Shila Shasana
Inscription on Stone

Loha Shasana
Inscription on Metal

Sthambha – Pillar
Thamra – Copper
Bande – Boulder Rock
Hittale – Brass
Chappadi – Granite Slab
Kabbina – Iron
Karandaka – Stone/Earthen Pot
Kanchu – Bronze, Belli – Silver, Chinna – Gold
ಶಿಲಾ ಶಾಸನ – Shila Shasana – Stone Inscriptions
These are found in large numbers.  Probably India is one among very few countries, where we find rock being continuously used to inscribe and record events, thereby creating rock inscriptions or Shila Shasanas. From Pre-Historic period to Modern times this was one such practice. Pre-historic man made bruising on rock surfaces depicting their social life which is found all over Karnataka. Emperor Ashoka after embracing to Buddhism, in an effort to popularize Buddhism, issued edict to his subjects on right conduct. Such edicts were issued on Rocks, Stone Slabs, Stone Pillars and walls of Monasteries which were found throughout his empire. Such category of inscriptions continued until late 19th century. You can click here to know more about stone inscriptions, how they were made and their anatomy,
ಸ್ತಂಭ  – Pillar Inscription
From the early 3rd century B.C Ashoka used shafted cylindrical stone pillars for inscriptions. This tradition continued even after Ashoka by many dynasties. In Karnataka, the Kadambas of Banavasi, Chalukayas of Vatapi, used such Pillar Inscriptions.
Some of the best examples of their Pillar inscriptions can be found at Talagunda & Malavalli in Shimoga district, Gudnapur in Sirsi, Uttra Kannada district, Mahakuta and Pattadakal in Bagalkot district. A number of Jaina Epigraphs  on Stone pillars  can be found at Shravanabelagola, Hassan district.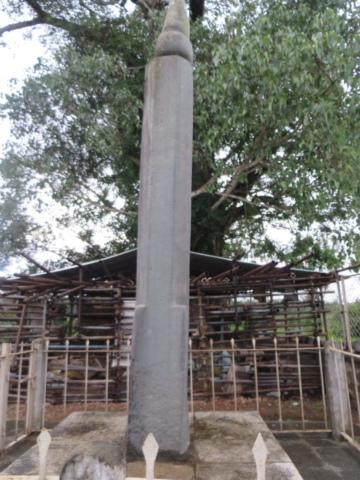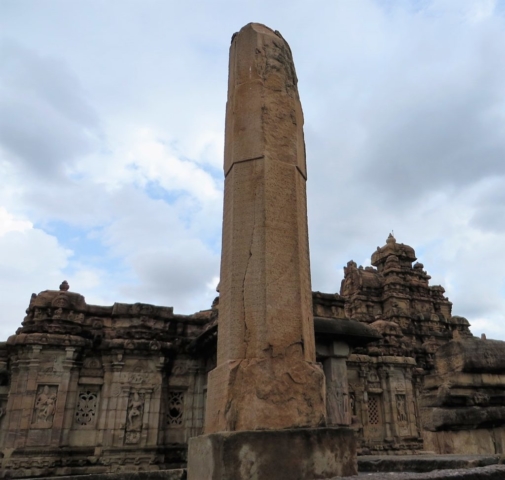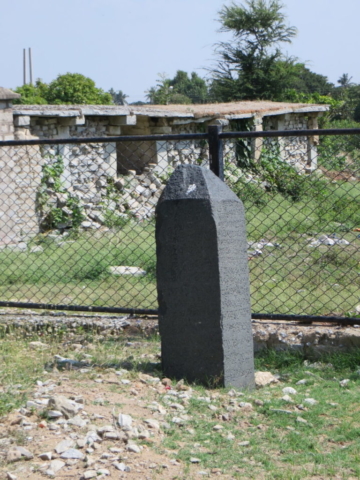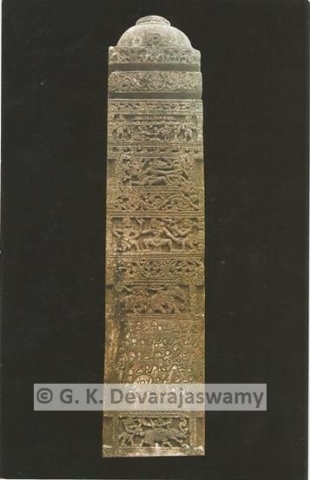 ಬಂಡೆ – Rock/Boulder Inscription
We have ample number of Ashokan rock edicts spread across all over India, such minor rock edicts are to be found in Maski, Koppal, Palkigundi , Chandravalli & Jatagirameshwara. After 8th century A, D. boulders inscriptions became a rare thing. Much later, it resurfaced and popularized by Vijayanagar Rulers.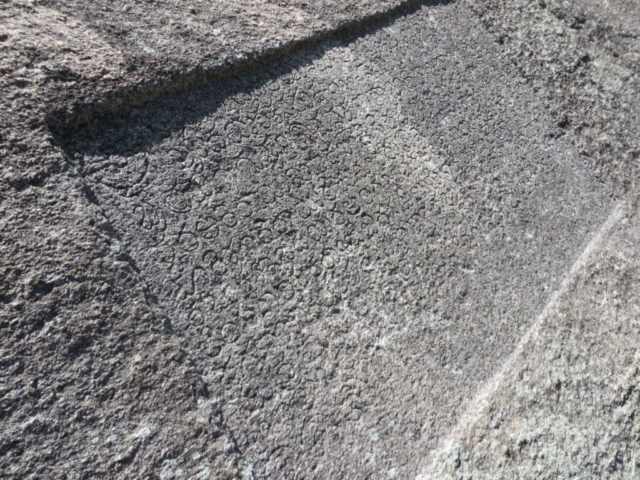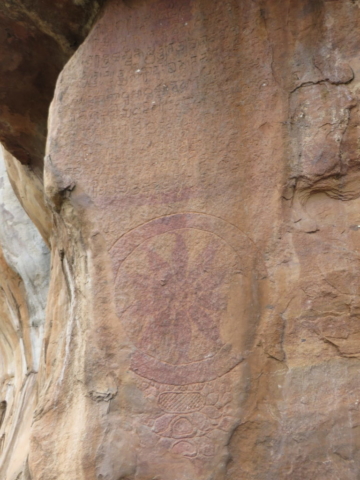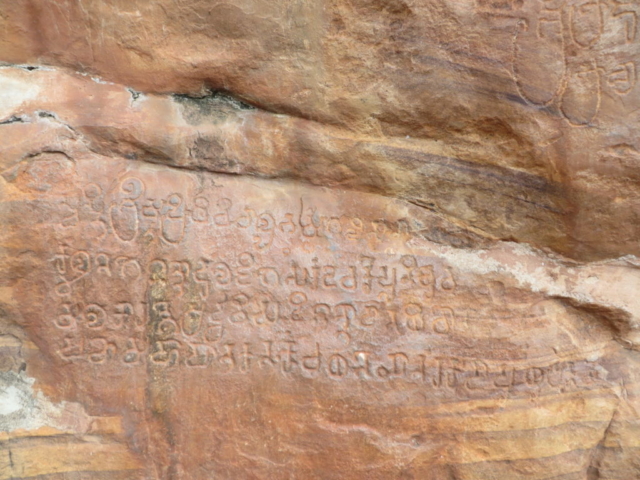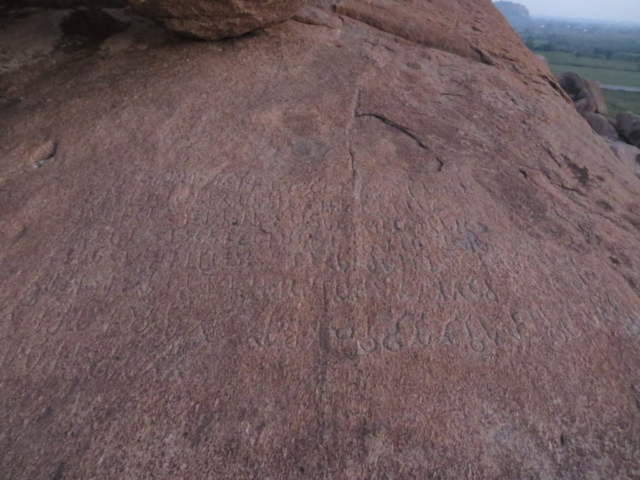 ಚಪ್ಪಡಿ  – Granite Slab Inscription
Slab inscriptions were very popular medium in Karnataka and unique feature of Karnataka Inscriptions. One of the earliest stone slab inscriptions can be found at Sannati, Gulburga which goes back to Ashokan times. All the rulers of Karnataka starting from the Shatavahans, the Kadambas till Mysore Wodeyars made used Stone Slab inscriptions. A separate Stone Slab was placed near premises of the temples. After Chola's advances in the regions of southern Karnataka and during the Muslims regime in northern Karnataka, inscriptions were inscribed on walls, Temple walls, fort walls and Masjid walls.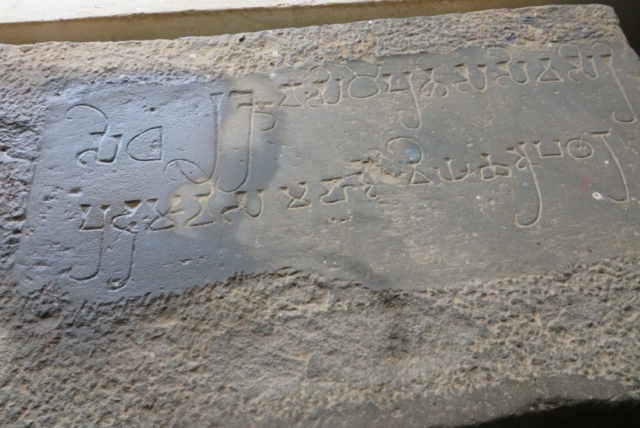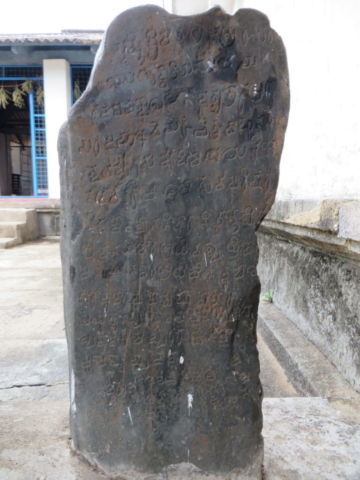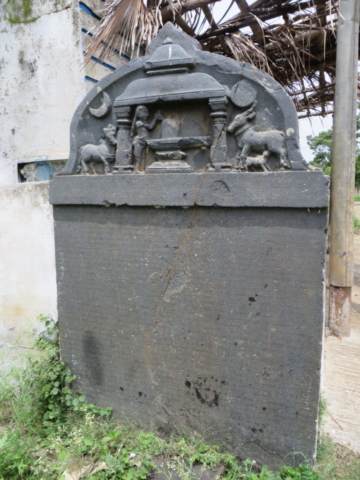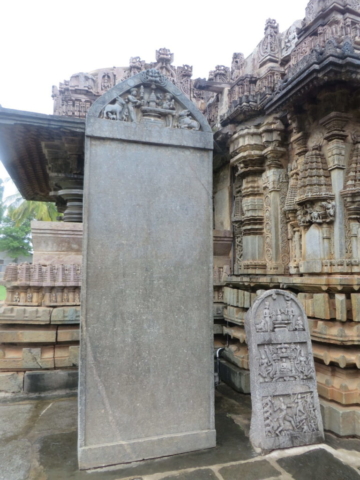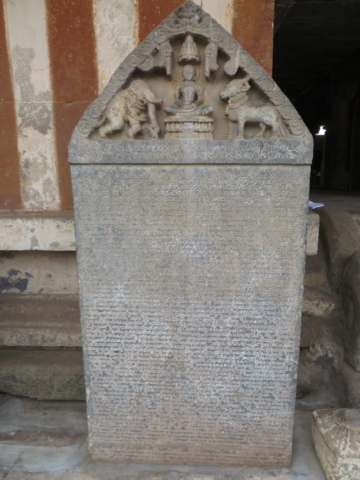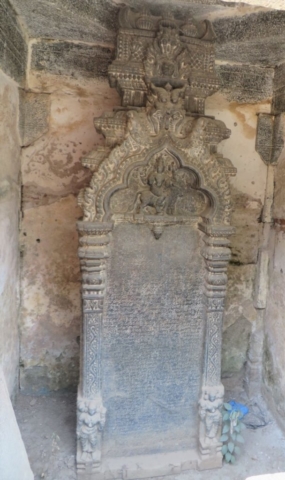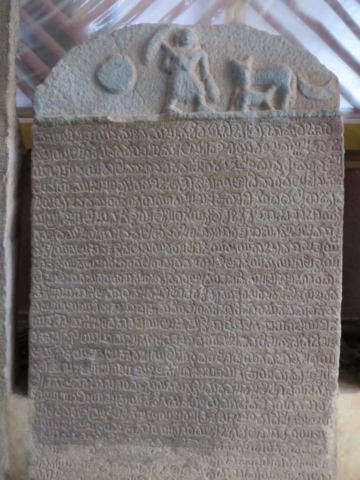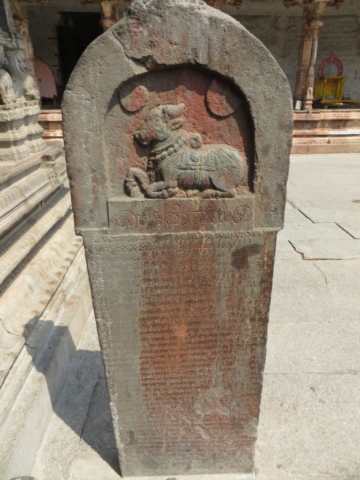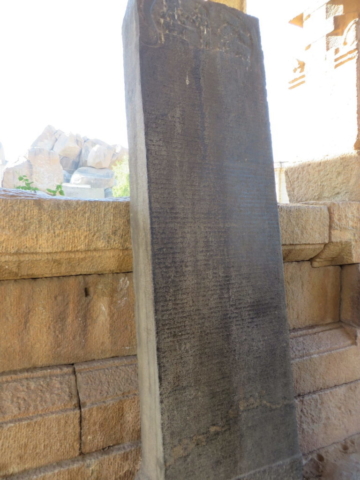 ಕರಂಡಕ – Karandaka – Stone/Earthen Pot
ಮಣ್ಣು  – Earthen
Inscriptions found on bricks, artifacts made of clay or terracotta belong to this category.
ಲೋಹ ಶಾಸನ  – Inscription on Metal
Metal was a common medium and was used by many Kings to issue their strictures. These metal inscriptions were private documents and not public. These were issued as a personal document and were preserved in private houses and temple treasures.
Various types of metals were used to inscribe grant of land. They are:
ತಾಮ್ರಪತ್ರ – Copper Inscriptions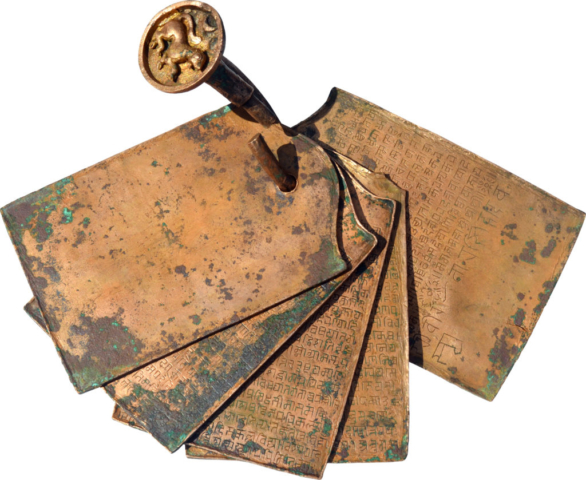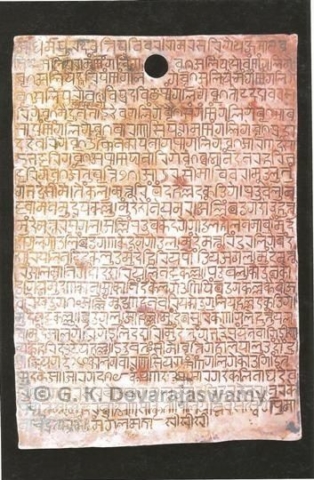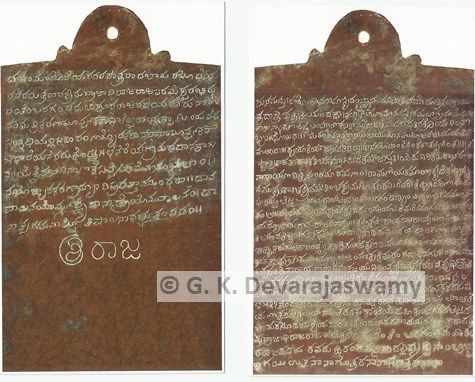 Copper Inscriptions was widely used from 1st Century .B.C to 19th Century .A.D. The nature of such inscriptions was private documents mentioning the grant of land for cultivation purpose or grant of village. Early copper plates resemble palm leaf in size containing of three to four plates which were tagged together with a ring containing the Mudre Ungura – royal seal. From Gupta period, north Indian copper plates resembled birch bark (Burja Patra) with only a single plate. The south Indian copper plates contained multiple folios depending on the text.
Copper plates are found in abundance in Karnataka. Oldest among them belong to the Kadamba dynasty. Copper plates issued by Ganga rulers are also have been discovered. The plates of Vijayanagar periods are in plenty. One of the earliest copper plates in Karnataka can be found in Hirehadagali, Bellary district, which belongs to the reign of early Pallava ruler Shivaskanda Varma. These copper plate inscriptions contain royal titles, epithets, royal genealogy. From history point of view copper plates give very valuable information about the dynastic history. The copper plates inscriptions of Karnataka contain Sanskrit language and Kannada script. Vijayanagar copper plates are found in Sanskrit language with Nandinagari script. Keladi Kings copper plates usually contained a single large plate inscribed on both sides, it ended with royal signature or with God's name.
Study of copper plate grants is be undertaken carefully because of their spurious nature in some cases. Kuta Shasana is fake inscription prepared by greedy persons to grab others property. To know whether an inscription is a fake one or not, one has to study its script, language and the dynasty referred in it. The first scholar who brought out such inscriptions was J.F. Fleet.
Copper plate inscriptions are classifies as:
ದೊಡ್ಡ ಹಾಗು ತೂಕದ ಶಾಸನ – Plates which are Big and Heavy
For example, Thiruvalmgodu, Tamilnadu copper plate inscription has 31 plates with total weight of 200 Pounds. This was issued by Chola Rajendra I and has 816 lines.
ಕರಂಡೈ  – Karandai Shasana
Example to this is the grant issued by a Chola king which has 55 plates of dimension: 16.5 inch x 9.5 inch. It has 2500 lines inscribed and the seal itself weighs 216 pounds.
ಪೈಟಾಣ್ ಹಲಗೆ  – Paitan Plates
Example to this is the one belonging to Devagiri King Yadava Ramachandra of 1272 AD. It has the royal symbol of Garuda and weighs 216 tolas (2.16 Kilos).
Coins
There are many coins are available of the Gangas (with their royal emblem of elephant struck on them), the Kadambas, the Chalukyas, the Rashtrakutas and the Hoysalas, some of them with Kannada legends. Coins of the time of Vijayanagara, Varaha, Pratapa and Hana are the most prominent. The Mysore and the Keladi rulers also issued coins with Kannada legends and these coins resemble those of Vijayanagara. The Bahaman Shahis and the Adilshahis struck coins resembling those of the Delhi Sultans. But, their Persian calligraphy is of the southern style. Haider and Tipu also issued coins, with Persian legends, of gold, silver and copper. The latter issued very beautiful coins with greater variety.
ಹಿತ್ತಾಳೆ  – Brass
Brass was used in temple door frames, prabahvali, utensils and in Jayapatras (a type of inscriptions). His contained the name of the donee or the owner. These Jayapatra records were created in early part of 18th century. These records throw light on the many sub-castes in Karnataka.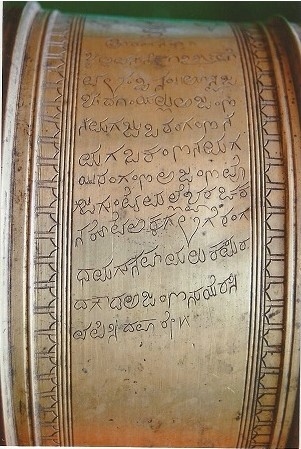 ಕಬ್ಬಿಣ  – Iron
Iron articles such as pirangi – missiles and swords are also available with inscriptions in Karnataka. Iron pillar inscription at Mehrauli is the most notable. Iron was not a popular choice for inscriptions as it rusts when exposed to air or water. Mehrauli Iron Pillar erected by Gupta dynasty (5th .C.A.D), is the only one example of iron being used for a bigger inscription. It was uprooted from its original location and now can be seen at Qutab  Minar premises, New Delhi.
 ಕಂಚು – Bronze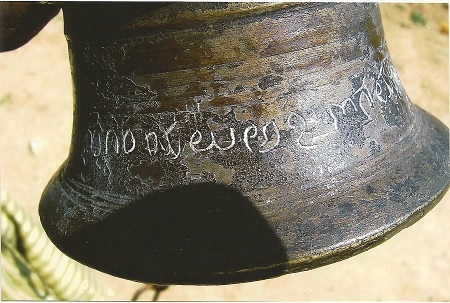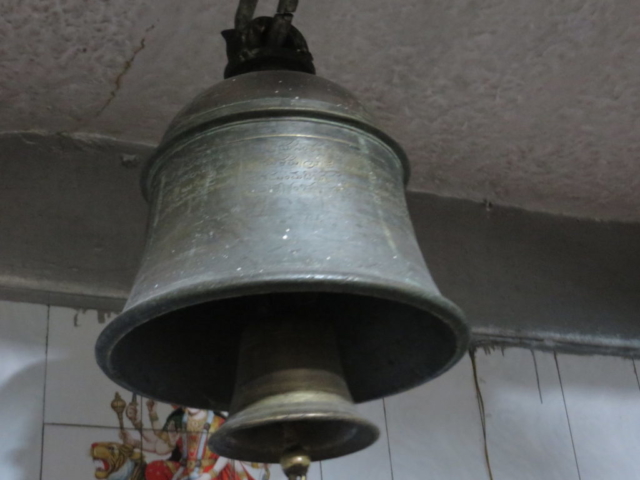 Inscriptions on bronze items such as pedestal of deities and bells are found in temples. They usually have the names of donors inscribed on them.
ಬೆಳ್ಳಿ – Silver
Silver articles used for worship in temples – making idols, Lamp, door jams, & frames, utensils and for objects to be worn on Gods and Goddess and also the idols. Such objects usually have names of the donors inscribed on them. There are silver plate inscriptions available for example, Marata shasanas.
The Kodagu Aaane shasana –
This silver elephant now housed in Iggutheppa templae, Madikeri gives details about larger population of elephants in Tadiyandamolu in Kodagu district and their conflict with humans.  Inscription says, as a control measure, Kodagu king subdued and killed hundreds of elephants.
ಚಿನ್ನ  – Gold
Gold was very rarely used for inscriptions, we have just very few examples of gold being used for inscriptions, but we find gold coins with inscribed letters and figures issues by different dynasties available in Karnataka.